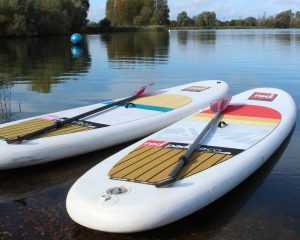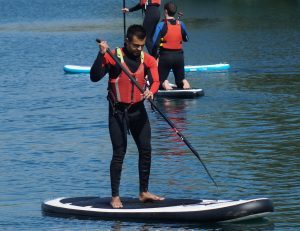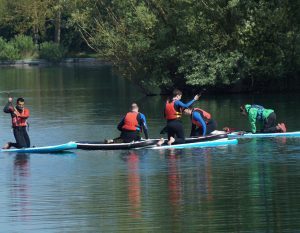 Grab a group of friends and try your hand at Paddleboarding!
Stand up Paddle Boarding is an offshoot of surfing that originated in Hawaii. Unlike traditional surfing where the rider waits until a wave comes, stand up paddle boarders stand on their boards and use a paddle to propel themselves through the water.
Catering for groups of 10 People, we will teach you the basics of paddle boarding and within minutes you will be exploring one of our 33 acre lakes with our trained guides.
This is a very relaxing and peaceful Paddle Boarding experience and gives you a whole new perspective in comparison to our motorised water sports. Stand Up Paddle Boarding is also great for fitness and core strength too!
£200 for up to 10 People
Food and drink can be incorporated into your package to make your day complete. Please see our Lakeside Kitchen and Bar for more options.